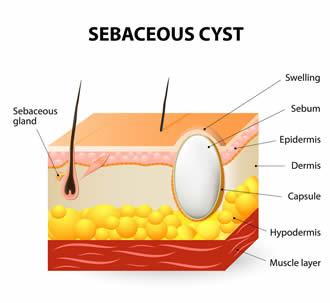 If you notice a lump or bump on the skin you may be wondering what it is. Could it be a sebaceous cyst? There are hundreds of cysts that can develop on the skin, and it's more common for someone to be dealing with an epidermoid cyst or a cyst that originates in the hair follicles rather than a true sebaceous cyst; however, if you are dealing with a new growth or lump on the skin you may want to turn to your dermatologist to find out if it could be a sebaceous cyst.


What is a sebaceous cyst?
Your body is covered in sebaceous glands, which produce oil known as sebum that covers the hair and skin. If a gland's duct becomes damaged or block, a sebaceous cyst can form (most often the result of trauma).
Sebaceous cysts are often painless, fluid-filled noncancerous bumps that most often develop on the neck, face, or back. They are not dangerous and they are typically slow growing; however, it is possible for them to grow large enough or to develop in an uncomfortable area of the body, particularly if they aren't being monitored by a dermatologist.


What are the signs of a sebaceous cyst?
It can be difficult to pinpoint the differences between a sebaceous cyst and other types of cysts, which is why it's a good idea to turn to a dermatologist for an evaluation. Some signs that it's a sebaceous cyst include:
A white or yellow lump in the skin

A lump that's soft to the touch

A lump that's often painless, but may become uncomfortable
It's also important to recognize the signs of an infected sebaceous cyst such as redness, tenderness, soreness, or drainage. If you notice any of these symptoms you must turn to your skincare provider to treat the infected cyst.


Does a sebaceous cyst require treatment?
If the cyst isn't infected then treatment is rarely required; however, depending on the size and location of the cyst, and whether it's uncomfortable, your dermatologist may recommend surgically removing it.

Any new lump or growth that doesn't go away warrants visiting a dermatologist for an evaluation. If you notice any of the signs above that could indicate an infection, you must call your dermatologist right away.